thanks cookie for the spectacular gfx!
Welcome to Habboon Happenings!
Hosted by linds and devi!


We're here to answer the frequently asked question: what's happening on Habboon? Read the weekly post to check out spotlights on users, communities, and events. Ask advice and learn more about your own community.


We'll also post staff updates such as hirings, updates, and more!
---
No submissions for spotlight :( We'd love to give your community a shoutout!


Do you believe your community should be spotlighted in this article? Click here for that chance to be advertised on Habboon Happenings!


We have historically spotlighted agencies, roleplays, fansites, and user-created quests/mazes!
---
A reader asks, " How do I tell my parents I want to move out?"
linds: I'd definitely be prepared. Have budgets, some locations / places to live listed out, how you're going to make the money and how much it'll cost you. But they definitely need to know that you are gunna move out one day, just have all the info to back you up!


devi: If you have a place to go and are ready to do so, I'd sit them down and have an adult conversation! Make sure you are prepared for all the types of questions they'll ask and make room for compromises as well :)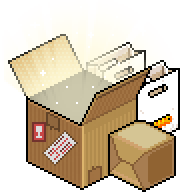 A reader asks, "what color should I paint my room?"


linds: Each wall a different color, I recommend: teal, pink, purple and silver.
devi: Personally, it depends on where you are located! Where I live, it's pretty gray all the time, so I recommend warm colors for the winter! But also something that won't take away from the decoration of the room. A good yellow maybe?


Do you have a burning question you'd love for linds or devi to answer? Feel free to submit here for a chance to be selected for the next edition of the article.


All questions will remain anonymous, so ask anything!
---
Everyone is so busy working for GOTW points, serving coffee at Coffeehouse, and assisting Frank in cleaning the Welcome Lounge that we believe there should be a little fun mixed with business.


Below will be some games that you can do for fun in your spare time! Think you're up for the challenge?


Write a caption for the image presented below: What are Linds and Devi doing in front of the portrait?
Submit your captions here!
------


Previous Week's Winner:
Doll!
---
Natalie has returned as a Moderator! Be sure to give her a big welcome back on the client!
T-Moderator applications are out! Find the article posed about it for more information. There will be interviews on client at random times and decisions being made soon!
***
Habboon has started their own Auctions! Keep your eyes peeled on client for a Hotel Alert when they start.
Lots of new updates were pushed regarding the Marketplace and Catalog. Check out the new features and comment on your favorite ones as well!
if you're reading this, message devi on Discord at devi#8451 to enter a giveaway for Star Earrings! Be sure to say what your Habboon username is. All users who message will be entered :)
---
The badges for all submissions will be according to the badges below!
During random weeks, we may do a lottery or giveaway to give out different prizes. Keep reading Habboon Happenings to find out!
Thanks for reading this week's post of Habboon Happenings!
---
for all of our submission forms if you'd like to submit for all of them.
xoxo,
linds & devi

lindsay#0001 • devi#8451